Mary Ann (

Bell

) and Howard Dahlheimer
Family History
Table of Contents
Mary Ann (Bell) and Howard Dahlheimer
Mary Ann Theresa Bell
Mary Ann Theresa Bell was born on December 19, 1931 in Waverly, MN.
Her parents were Mabel (Gromotka) and Leonard Bell.  For a history of the Bell and Gromotka families, see:
http://dahlheimer-bebeau.com/Bell/
She was named her middle name, Theresa, after her grandmother Theresa (Tess) Gromotka.  
She attended her first year of parochial high school (9th grade) in Waverly while living in Waverly with her grandparents, John and Martha Gromotka.  Mary Ann remembers that the school was very strict, required them to wear uniforms and did not allow girls to wear lipstick.  Brown long stockings were required.
In the 10th grade she lived in Maple Plain at a friend's house and attended Mounds View High School.  It was much larger than her previous schools and she found she did not like it as well and it was hard to make new friends.
In the 11th and 12th grade she went to school in Rockford.  Fortunately there was bus service now from Hamel to Rockford, thus making this possible.  She finished high school in 1949.  Following is her graduation photo:
<![if !vml]>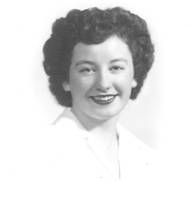 <![endif]>
From 1949 to about 1952-1953 she worked in Minneapolis at the Northwestern National Bank as a check handler.  She commuted from Hamel to Minneapolis with a neighbor and his two daughters.
She loved to dance so in her free time she went to different dance halls.  In about 1952, at about the age of 21, while at a dance in Rogers, she met her future husband, Howard Dahlheimer. 
Howard Dahlheimer
Howard Dahlheimer was born on September 7, 1930 in Rogers, MN. 
His parents, Emily (Bebeau) and Werner Dahlheimer, lived on a farm in Rogers, MN.  For a history of the Dahlheimer and Bebeau families, see:
http://www.dahlheimer-bebeau.com/
In 1948, he graduated from Elk River High School.  Following is his graduation photo.
<![if !vml]>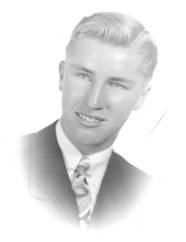 <![endif]>
In the fall of 1950, Howard and a good friend, Gordon Rouillard, joined the Marine Corp. They departed in January 1951 for boot camp at Camp Pendleton, California. After boot camp Howard was assigned to the Fleet Marine Force, Pacific 1st AAA Battery, while Gordon was assigned to sea duty on an aircraft carrier off the coast of North Korea. Both were discharged from the Marine Corp in the summer of 1952 and returned to Minnesota.
Following are a few photos from his time in the Marine Corp:
<![if !vml]>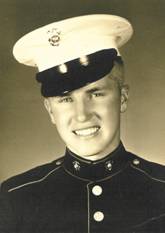 <![endif]>
Howard in dress uniform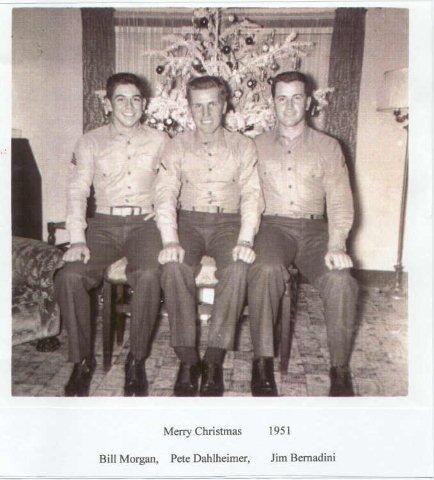 Howard (middle, nickname is Pete), and Friends Bill Morgan (left) and Jim Bernadini (right) - Christmas - 1951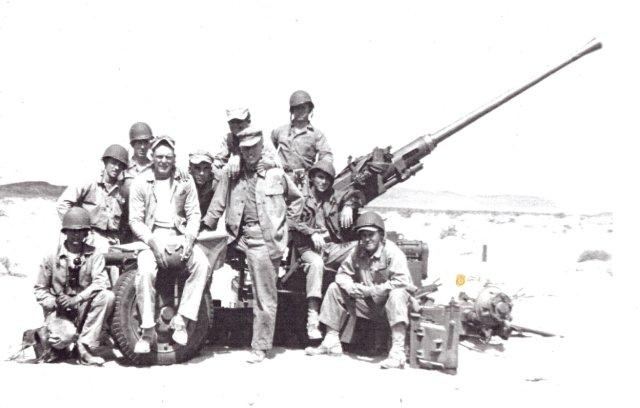 Howard in the Marines - Mojave Desert, Barstow, CA - 1951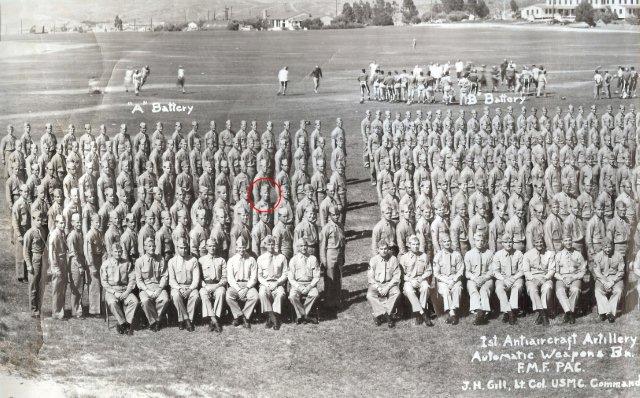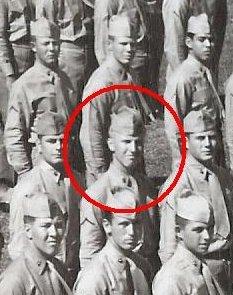 Howard at Camp Pendleton, Oceanside, CA - 1952
In late summer 1952, at about the age of 22, while at a dance in Rogers, he met his future wife, Mary Ann Bell.  At that time Howard was selling pots and pans door to door.  His selling tactic was to cook his clients a meal in their home using the pots and pans.  Mary Ann would often help him in the preparation and clean-up.  Following is a photo taken at a Halloween Party for the Pots and Pans Sales Group in 1953 (Howard and Mary Ann are in the back on the right):
<![if !vml]>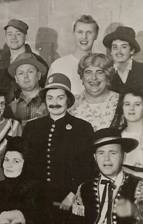 <![endif]>
Mary Ann (Bell) and Howard Dahlheimer
On 16 Oct 1954, two years after they had met, Mary Ann Bell (age 22) and Howard Dahlheimer (age 24) were married.
Following is a copy of their wedding photo:
<![if !vml]>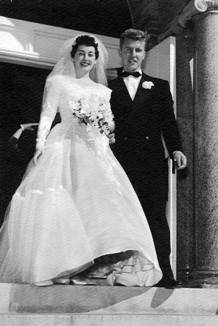 <![endif]>
They first lived in a cottage on Crystal Bay in Lake Minnetonka. 
Howard was still selling pots and pans door to door.  Mary Ann had always wanted to be a beautician, so she took a 9 month course.
In 1955 they purchased a small 34 foot mobile home and moved to Aberdeen, South Dakota.  Their first daughter, Lynn, was born in Aberdeen on 9 Oct 1955.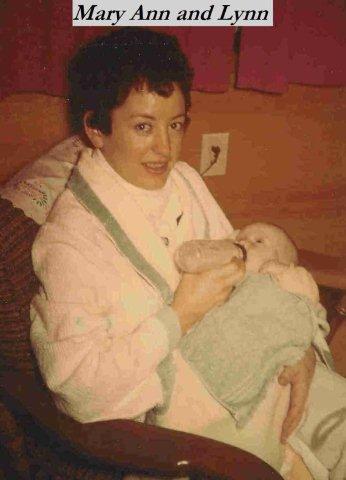 In 1956 Howard and Mary Ann moved to Denver, Colorado. Howard began a new career as a salesman for Security Mutual Life Insurance Company (now called Assurity Financial).  He and Mary Ann initially lived in the mobile home, but then in 1958 they purchased a house in southwest Denver.  Mary Ann worked part time in a beauty shop for a few months, but later (after Jane was born) she stayed at home to take care of the family and worked as a beautician out of the home.  
On 30 Jan 1957, in Denver, their second daughter, Jane, was born.  There were many complications with this birth as Jane was born one month premature and weighed only about 4 pounds.  This was quite a financial drain on the family.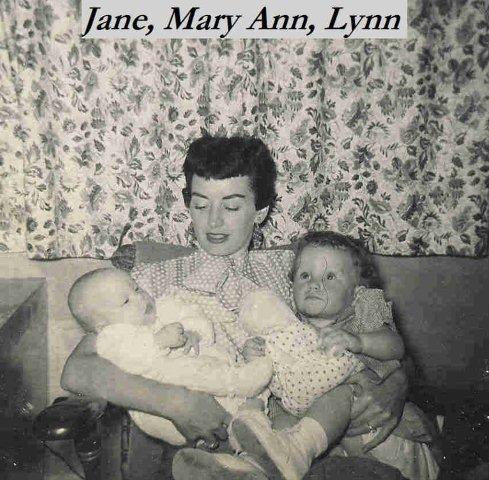 In 1961 they moved to Lincoln, Nebraska at which time Howard joined the Agency Department in Security Mutual's home office for two years (1961-1963).  They lived in a small white house on a corner. 
On 14 Aug 1962, their third and last child, Kay, was born.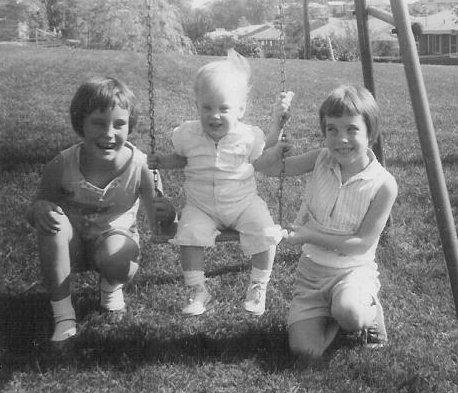 Lynn, Kay and Jane - Golden Valley, MN - 1964
In early 1963 Howard and Mary Ann returned home to Minneapolis, Minnesota where Howard started his own insurance agency, part of the larger company Security Mutual.  Initially Howard and Mary Ann lived in St. Louis Park, but moved several times later in Minnesota, living in a house on Independence Avenue near General Mills Headquarters, a house on Dawnview Terrace in Golden Valley (for about 12 years), and to Legend Drive in Golden Valley.
In 1967 and for a total of 13 years, Howard's agency was awarded Security Mutual's Prestigious "Best All-Around Agency Award" eight times and the "Runner Up Award" five times.  In addition to managing his Agency, Howard served the industry in various capacities, one of which included the Minneapolis General Agents and Managers Association Presidency in 1974-1975.  For medical reasons he retired from Agency management in 1989, and continued his career in personal sales.
<![if !vml]>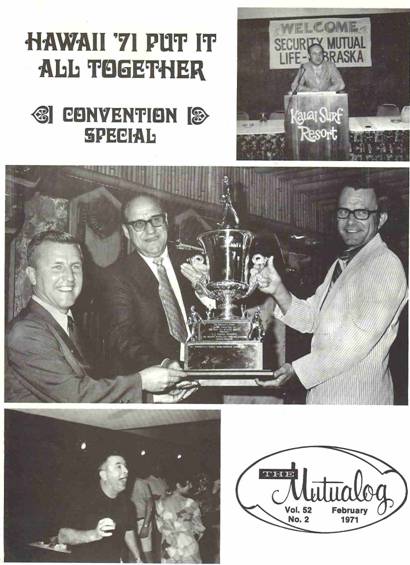 <![endif]>
Howard Dahlheimer's agency wins Best All-Around Agency Award –1971
<![if !vml]>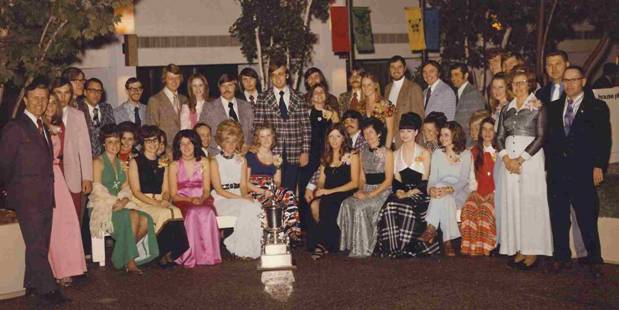 <![endif]>
Howard's agency wins Best All-Around Agency Award –1972
Howard is standing in the front row on the left.  Mary Ann is sitting in the front row on the right, wearing a black and white dress with a black band around the waist.
One of the reasons for returning to Minnesota was to be near family and allow the children to get to know their grandparents and other relations.  Many holidays and summer vacations were spent on both grandparents' farms:  the Bell farm in Hamel and the Dahlheimer farm in Rogers.  The following photo of Lynn, Jane and Kay was taken at the Bell farm:
<![if !vml]>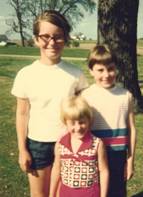 <![endif]>
Eventually the children grew up, left home, and married.  Howard and Mary Ann moved to a new home in Plymouth, MN, where they presently reside.
On 16 Oct 2004 Howard and Mary Ann celebrated their 50th Wedding Anniversary by taking a trip to Provence in southern France.
<![if !vml]>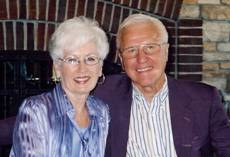 <![endif]>
Following is a family photo taken in September 2005 at the wedding of their grandson, Derrick, and his new wife, Kelly (Weiss).
<![if !vml]>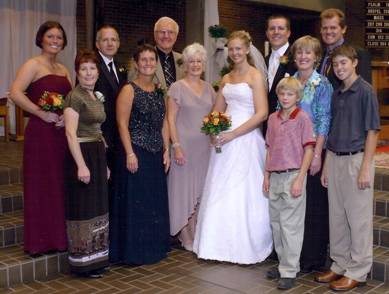 <![endif]>
Back:  Melissa Schroeder, Dan Schroeder, Howard Dahlheimer, Derrick Schroeder, Gary Anderson
Front:  Jane (Dahlheimer) Heinrich, Lynn (Dahlheimer) Schroeder, Mary Ann (Bell) Dahlheimer, Kelly (Weiss) Schroeder, Kay (Dahlheimer) Anderson, Austin Anderson, Doug Anderson
Missing:  Joe Heinrich
For more photos of Howard, Mary Ann and their family, see:
www.dahlheimer-bebeau.com/Photowebsites/Howard/
Family Memories
Memories of Growing Up, by Mary Ann (Bell) Dahlheimer
As I reflect on growing up with my parents, Mabel and Leonard, it was good.  Life was fun filled, and simple.  Every Saturday night (after all the chores were done) we'd go to the lake.  Mom would bring a bar of ivory soap and we would get a shampoo right in the lake.  The hair would be so soft because of the lake water.  We would bring old black inner tubes and float and play in the water.  It was another way to cool off, as there was no air conditioning.
We were so poor.  We moved around a lot.  Dad had many occupations:  truck driver, gas station attendant, mechanic, and farmer, did custom combining and operated a gas station in Mound. We had no running water.  Mom would go to the lake.  In the winter time she'd chop a hole to reach the water.  This home is where we all got the measles, chicken pox and scarlet fever.  They came and nailed a huge board on our door with the words "Quarantined" on it.  It was so embarrassed.  I was probably in the first grade. I vaguely remember being so sick. 
Then there was the "haystack event" at a farm in Maple Plain. Dad and the boys had worked all day cutting and bringing in the hay to make a huge rectangular haystack. That evening Dad asked me to go and get his cigarettes and matches from the car.  I did, and kept some matches for myself.  Pete and I went out by the haystack, lit the matches and tossed them.  Well, needless to say, it set the haystack ablaze.  Grandpa and Grandma Bell (Leonard's parents) were there and we formed a brigade with buckets of water from the well. It just didn't work.  It burnt to the ground.  Oh, we felt just terrible to do such a thing after all the hard work.  If Dad's parents had not been there I don't think we would have survived.  Dad was so angry, and justly so.
Then finding out about Santa Claus was a letdown.  We always had a Christmas pageant in the one-room school house that we attended.  The older children told us.  It was a sad day.  Then one night I was looking out the window and saw Dad running from tree to tree with a sled.  Then I knew it was all over.  But he would always supply us with tons of candy at Christmas time.  We loved it.  He was quite generous.
I think of my mother, Mabel, a lot.  She was so sweet and loved us so much.  But one thing that bothered me was her "conservatism" – never bought anything too much that was brand new.  She was always looking for second hand stuff.  Her favorite thing in later years was "garage saling" (going to garage sales).  Every Thursday, off she'd go.  But, this was her entertainment, so what can you say.
I feel blessed to have lived in the country as a child and young adult.  But now, wouldn't trade it with living in the city with all the conveniences.  Going to the Y.M.C.A. three times a week with Howard (husband), belonging to a Bible study group, etc.  It's awesome.
The Early Years - Memories of Growing Up, by Howard Anthony Dahlheimer
When writing these memories of my early years, I may digress and be more descriptive than I should, but the farm, house, my school, the old town of Rogers and a lot of my childhood is non-existent today.  It is my hope that these memories and experiences of my early school years and family life will be of interest to my family.
I was born on the Dahlheimer family farm in Rogers, Minnesota on September 7, 1930. We were a family of seven. I was the youngest of three boys. My older brothers: George and Harvey. Four sisters: Lucille, Lillian, Dorothy and Marlene. Julie the first born and oldest sister was killed, at age two in a farm accident.
Werner, my father, was of German descent and was the third generation in the USA. His great grandfather Casper, migrated from Germany in 1852 and settled in Ohio. Casper's son, Henry, had arrived earlier in 1849, immigrated to Minnesota in 1855 and, in 1860, homesteaded a farm in Dayton Township near Diamond Lake. Henry's son, George (my grandfather) purchased the Dahlheimer family farm at Rogers in 1909, and died in 1915.  The farm remained in George's wife's name, Tina, until her death in 1927. George's son, Werner, my father, and mother, Emily, purchased the farm from his estate in 1928.
My mother, Emily (Bebeau) Dahlheimer, was of French decent. Emily's family was the eleven children of Peter Bebeau. Her father's ancestor's came to Minnesota from Canada about 1848. My daughter, Jane, has done an outstanding job of tracking the both the Bebeau and Dahlheimer family histories.
The Werner and Emily Dahlheimer farm was one hundred and sixty acres of land within the village of Rogers, Minnesota. A farm in early Minnesota was usually in quarter sections. Forty, eighty or one hundred and sixty acres were common.  Large size farms were needed to support a typically large family.
The original 160 acres includes what are today State Highway 101, Highway I-94, Industrial Boulevard, the Alcoa plant, the City of Rogers wastewater treatment facilities, and all businesses west of 101 and south of the John Deere dealership, including Culver's.  The farm was purchased on December 28, 1909 by Werner's parents.
<![if !vml]>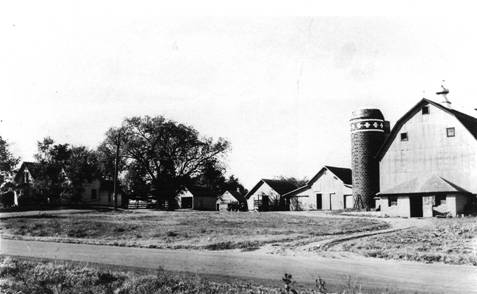 <![endif]>
Werner and Emily Dahlheimer farm, Rogers, MN, 1946, 160 acres
The old windy farmhouse had four bedrooms upstairs. The three boys occupied the largest room. A heat radiator in the bedroom floor could be opened at night to allow heat to rise into the bedroom from a large coal stove, which had been set up in the living room below. Brother George and Harvey slept together in the larger bed and I slept in a baby crib above the heat radiator, until I out grew it. Later on I move into the larger bed and later in life I got the hired man's room.  The hired farm man occupied the forth bedroom on the west side.  Three older sisters shared two other bedrooms on the east side.  No heat came into these bedrooms, so lots of comforters were needed in the winter months.
Bathrooms were non-existent upstairs or anywhere in the house; therefore, the use of potties were required. The potties, of course, had to be emptied every morning in the outdoor biff. Whose job?  Probably some fairy godmother was elected. I never saw one emptied.  The bedrooms had large armoires in each of them for clothing, which provided plenty of room, as we did not have much clothing.
Downstairs rooms: Six large rooms made up the downstairs.  These were a front room, living room, master bedroom, kitchen, washroom and pantry. An open front porch and enclosed back mudroom served as Mothers clothes washing room.
The front room was large, on the southeast corner of the house and was furnished with mother's best furniture. No closets. The floors were of oak and the room had lots of large windows. This room took a lot of coal to heat in the winter; therefore, the front room was considered a special occasion room. The large folding doors were only opened for Christmas, Easter, or when special company came to visit. Mother had her quilter set up in this room.  Most farm women seem to have quilters set up at home and took turns having quilting parties, (sewing together patches of different colored material to make a blanket). Local news transferred from family to family. Some might call it gossip or just plain farm country visiting, no newspapers in those days.
The large living room had originally been a kitchen and was converted to the living room some years prior to my showing up.  The add-on construction of a kitchen, pantry, washroom and porch were built, and the living room came into being. The living room had oak floors.  The large coal stove, which along with the kitchen cooking stove, heated the entire house. Winter months were cold and Dad usually filled the stove with a full bucket of coal before bed that would burn all night. In the winter we boys spent considerable time on the floor behind this stove where it was warm.
In the center of the room was a large round oak table. A number of extensions could be added I remember seeing at least fourteen to sixteen people at this table eating or playing cards, (rummy for pennies). In mother and dad's younger years, many house parties were held in this room. Grandpa Bebeau played the fiddle and mother the accordion or banjo.  Square dancing was the fashion and a little homemade moonshine from the neighbors "still" fortified the spirit.
The master bedroom was on the south side of the house next to the living room and kitchen. It had a large walk in closet. I remember this bedroom room as the sickroom. I spent time in this room recovering when I had my tonsils and appendix removed. While laying in bed I remember receiving two dollars from Dad from the sale of scrap metal which was purchased off the farm and shipped to Japan. This was a real treat!
The kitchen: The large wooden cooking stove had a lot of chrome decorations. Its large hot water reservoir had to be kept full.   It had a lime-corroded teakettle on top. The stove was this room center focus. All of "Ma's" good food came across it. She did not have gourmet cooking abilities, but she was a great cook and we never went hungry. She was famous for her chicken dressing she made for the annual church dinner. Oatmeal was a standard breakfast (no store purchased groceries). Bacon, ham, chicken, steak, roast beef or pork.  Pies, like apple, cherry and cream. (Mother's famous cream pie story was told many times: the story of the "railroad bum" who came by the farm house and ate two of her cream pies while she was working in the field. She caught him with cream all over his face.)  Cookies, chocolate chip, were the house specialty. Cakes of all kinds and raisin pudding on Saturday afternoon have been a tradition. In those busy farm days, noon was dinnertime, the biggest meal of the day, followed by a short nap, and then more work.  In the kitchen was a large table with fold up leafs on each end. Our family all could sit at this table.  When eating our family meals, I always sat on dad's right side on the wooden bench.  The three boys to dad's right and three girls to mother's left across from the boys. The evening meal was always at six.  During Lent, every night, the entire family knelt down after milking and said the rosary in the kitchen.
The radio was on top of the refrigerator behind me and I always had my ears glued to it listening to my favorite radio shows from five to six. Jack Armstrong and the Lone Ranger were the best.
The pantry was not a large room, but adequate to store bulk food. Flour and sugar were purchased in larger sacks. Food was stored on many shelves. When coming home from school it was the first room I headed for after coming in the kitchen door.  Peanut butter and jam sandwiches or cookies were always there for us.  I can also vaguely remember an icebox in this room.
The washroom was to the north off the kitchen. It also served as a coatroom. On the north end was a sink and hand pump. The water was pumped from an outdoor underground cistern. The soft rainwater was caught off the house roof, drained and retained in this cistern. The soft rainwater was used for baths, washing clothing and general cleanup. Prior to digging a well we also drank this water.
The back porch was where mother washed clothes every week. Monday was traditionally a national washday. It was sinful washing on any other day of the week.  If you did you became the talk of the community. Mother had one of those famous Maytag washers with a wringer, plus two large bathtubs, plus a scrub board (double purpose tubs). We also bathed in these tubs. The washer ran by a gas motor. Electric motors came later.  Summer and winter "all wash" was hung outside on wire lines.  Winter subzero weather caused all wash to come in stiff as a board, but fresh.  Seven dirty children - get the message?
The basement or root cellar was accessed via the back porch or mudroom. Large double doors in the floor lifted up.  Down eight steps was another heavy wood door. Potatoes were grown on the farm and stored in the basement.  Throughout winter, people from town would stop and buy potatoes from Dad and eggs from Mother. Her fresh white eggs were the cleanest and freshest around. People drove all the way from Minneapolis to buy the leghorn eggs.
The chicken house: Four hundred chickens or so were raised and cared for by my Mother. Eggs and roosters were sold to people from town. She would clean each egg and candle them in front of a light, weight them for size and check for blood. Mother took great care of her chickens. Chickens were multi-purpose, for eggs or to be eaten. Scharber's grocery store in Rogers got some eggs for food credits. People from Minneapolis would pay about four cents per dozen or more.
<![if !vml]>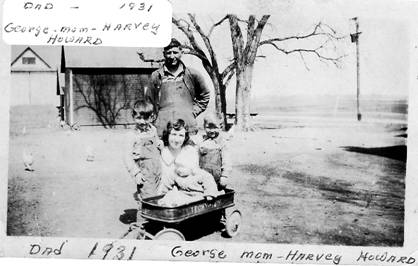 <![endif]>
Werner and Emily Dahlheimer, with sons, George, Harvey and Howard in a wagon, 1931
The woodshed and wood making:  Lots of wood was needed for the kitchen cooking stove. Dad and the hired man "made wood" in the winter months, let it dry during the summer and sawed and split it to stove length in the fall. All of the wood had to be split by hand, hauled to the wood shed and stacked. Then we boys had to keep the kitchen wood box full. The older and stronger brothers helped at log sawing time. My only job was to catch the wood stump after it was sawed off the log by the whirling open saw, and throw the cut off piece on to the pile. A job I did not like.  I was afraid of the four-foot saw, which whirled about 12 inches from my hands.  It was like sitting in front an airplane propeller.  Dad was the only one I remember who operated the saw. Cutting wood was very dangerous. The woods contained birch, oak, elm trees and lots of water. Now the city sewer system plant covers the entire area.
The corncribs and tractor shed:  one building, two corncribs. The center-covered area was used to store the 10/20 MC-McCormack Dearing Tractor.
<![if !vml]>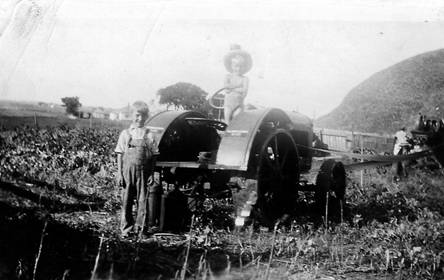 <![endif]>
Harvey and Howard Dahlheimer on a tractor, 1935
<![if !vml]>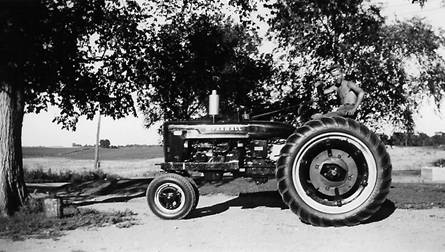 <![endif]>
Howard on a FarmAll tractor, 1946
Butchering of pigs or hogs occurred in the fall, usually November after it got cold.  The hogs were shot with an old 22 rifle. Dad would then stick them in the throat with one of his sharp butchering knives. Mother would catch the blood in a pan and make blood sausage. I can still see her performing this task and cooling the blood in the snow. (I did not like watching this part.)  Hot water was heated in a large black kettle right in the middle of the central yard.  A block and tackle was used for hoisting the pig carcass into the barrel.  After a few dips in boiling water the carcass was laid on a large table and the hair was scraped off with scrapers.  Guts were removed and the carcass split in half. In earlier years the guts were cleaned and salted for sausage casings. After hanging over night, the carcass was cut up and packaging took place on the kitchen table. With the bulk we'd make sausage patties, or sausage rings using the sausage maker. Harvey or George would sit on one end of the sausage maker's board and I would sit on the other end.  Dad would put the bulk sausage into the top end and Mother slipped the gut casings on the sausage makers exit tube. She would work the sausage rings to size.  Dinner on sausage making days always included fresh sausages.  Lard rendering is the last step of butchering.  Pigs have an inch or so of fat or lard under their skin.  The fatty lard part of the pig is trimmed off, cut up in small pieces and put in the large black kettle over a hot wood fire for rendering.  This was a fun time for us kids got to make our own homemade french fries.  We threw cut up potatoes right into the hot lard. In about three to four minutes the french fries were done, yum, yum, good. The hot fatty pieces of lard were put in the sausage maker and all of the liquid lard was squeezed out, leaving a thick slab of cracklings. The dogs and cats ate these and some people also liked eating them, but not me.  Mother and Dad would put the lard in quart jars for later use whenever she needed fat for cooking and for making piecrusts or other baked items.
<![if !vml]>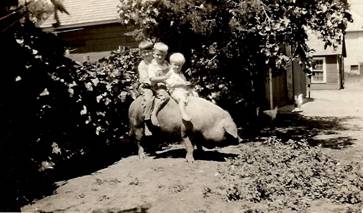 <![endif]>
Dahlheimer boys - George, Harvey and Howard on a pig, 1932
This picture was taken by their mother in 1932 with a Kodak Brownie camera and shows the Dahlheimer brothers, George, Harvey and Howard riding an old brood sow that had avoided becoming ham and bacon (sausage-maybe).  Don't try this at home.  It was common to have pigs and chickens on the dairy farm for both market and food.  During the depression years of the 1930's this self-sufficiency served the family well.  This picture was taken a short distance south of Culver's in the Dahlheimer farmyard in an area that is now the Target parking lot.
The smoke house: Dad never used the smoke house during my young years, but it been used a lot by his father, you could tell. It smelled good.  The outdoor biff sat right next to the smoke house for a long time. (It smelled bad!)
Later it was moved south of the woodshed, which was off the back porch. Biffs move around a bit.
The pig house: Dad would raise forty to fifty pigs each year.  Pig birth time was always an important time and Mother or Dad would be present with the sows when this event was in progress to remove the little piglets from behind the birth mother and wipe them dry and remove them so she wouldn't lie on them. We never got to view these events.
The granary had three two-story bens used for storing grain, plus a smaller entry area for the feed grinder and scale. Wheat, barley and oats were the usual grains stored.  Smoked hams were stored in the wheat over the winter months.  Dad would bury hams in the wheat. I can remember mother sending me out to bring a ham in from the wheat bin.  The ham was wrapped in white cheesecloth. There were lots of mice and rats in the granary. It a constant battle to keep their population down.  We would trap or shoot them with the 410 shotgun.  The two machine sheds were used for storing machinery and were attached to each side of the granary.
The silo was a large round blue block structure built next to the barn for corn silage used to feed the cows during the winter.  It was tall, about one hundred feet plus.  In the fall, corn was brought in from the fields and ran through the corn cutter/blower which blew the corn silage into the silo from the top.  I climbed the outside ladder to the top into the silo a few times to pack and spread the silage down. This was not my thing.  I was always scared the ladder rungs would come out and down I would go.  In the winter, someone would have to climb up the enclosed ladder and throw down silage to feed the cows.  When it was really cold the silage would be frozen to the sides of the silo and would have to be grubbed loose.  Not my favorite chore. 
The barn had an upstairs hay storage area.  In early years hay was stored loose. In later years it was baled.  When hay was hauled in loose it was on wagons pulled by horses or a tractor. The barn had a track along the roofline. A large metal fork was stuck into the loose hay on the wagon and two horses would then pull the hay bundle by rope, to the carrier, which carried it across the roof area and into the hay mow.  Dad would do most of the spreading and packing, which was hot work in July and August.  Winter fun was enjoyed by the kids, by jumping or sliding from the higher haymow onto loose hay in the center drive.  Even my girls, Lynn, Jane and Kay had "hay mow" fun time.  Rabbits took over the hay mow for a number of years. The rabbits would burl holes into the hay and multiply rapidly. Then they would get diseased and die.
Dad owned three horses in my time:  Dewey the gray, Tony the red, and May the black and nervous lady of the three. Partitioned horse stalls with wooden planked floors separated the horses. (Wood floors were better than concrete for the horse's hoofs). May had the large stall because in her younger years she would foul young babies.  I am told before May that Dad had horse called Maude.  Dewey was my sister Marlene's horse and a very gentle gelding.  Marlene loved Dewey and all horses.  She spent hours on his back and caring for him. Everyone would ride Dewey. In the winter some of us would ski behind him hanging on to his tail or a rope.
<![if !vml]>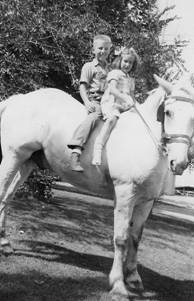 <![endif]>
Howard and his sister, Marlene, on a horse, 1943
The cow barn and horse stalls were cleaned by hand.  The mature was scooped from the gutter into a manure carrier or wheelbarrow and then ran out the back door and in the winter dumped on a bobsled.  The cow barn had to be cleaned once each day, usually around four o'clock. Depending on the temperatures, the cows could be put outside for short time. The manure was hauled to the field with horses pulling a large bobsled. The small kids would have the opportunity to ride a sled or a toboggan tied behind the manure bobsled going to the field. Great fun when Dad had the horses run on the return trip.  Horse stalls were the pit to clean. The smell was blinding and took your breath away. Luckily, the horse barn cleaning was not required too often. I hated it. 
Downstairs in the lower level of the barn was room for about twenty cows in stanchions, two small calf pens and a bullpen. Cows were milked by hand in the early days. We each had certain cows assigned to milk.  I had a little of that chore which I never did enjoy. Automatic milking machines came along during my time, but you still had to get under the cow and would get stepped on, swatted with a wet sloppy tail, or kicked. The flies were like our mosquitoes today, another dislike for me.
In the early years cream was sent to Minneapolis by train. Lucky me, I was too young to be involved. My sister Lucille remembers having to clean the cream separator, a big job.  Whole milk pickup started sometime in the thirties. We had a milkman named Adrian Bourgeois.  He picked up milk every morning and hauled the milk to the Anoka Twin City Creamery. Adrian called me "Petoe" after my French grandfather, Peter Bebeau. The name "Petoe" has stayed with me all my life.  Even today certain friends use the name "Petoe".
Cats and dogs were plentiful. "Toms" just stopped by for food and visiting with the girl cats. Mortality was high. Cats liked the barn and in the winter months they were in the barn where it was warm and they had lots of milk to drink. Too much milk and a bad diet was bad for cats and many died. Cats would get stepped or laid on by cows.
Dogs had short lives. Ours loved to chase cars. It was suicide for many.  My two golden Sheppard's hunters were done in. Later in life, I had a mixed German Sheppard given to me, which was supposed to be a great hunting dog. It was, but it went across the road one night and killed about thirty of Jackie Dahlheimer's chickens. Jackie returned him dead.
Our grade school was a typical one-room country school with all eight grades taught by one teacher.  Schools were known as districts. Our school was "District 70", one mile north of the farm.  A large school bell was on the roof in the bell tower. The bell ringing rope hung down in the classroom. When recess was over the teacher rang the bell. It's been said, in early days the bells on schools were also used to rally the community to the school. On the north end of the building were two indoors biffs, one for girls and one for boys, with a wood shed between (no unisex restroom).  The woodshed between kept the girls from drilling holes into the boys biff to see what was going on inside. Sex educations for boys in those days were learned in the barn and not too many questions were asked by anyone. Each biff had two big job holes, a large and small one, and of course no urinal. A lot of the little guys missed the hole when peeing, big guys did too. This made the teacher really mad, because one of her jobs was to keep the school biffs clean. I never used the girl's biff, but some boys did just to make the girls and the teacher angry. The winter winds blew pretty hard up through the seat holes and kept one's bottom a little frosty in the winter, and warm in the hot spring and fall weather. The biffs always smelled awful!! No toilet covers or running water to wash our hands, but in the back of the main schoolroom was a bucket, dipper, basin and towels.
The school library consisted of one large open bookcase in the front of the schoolroom, which held few books. The county library truck came around every few weeks and we were able to go into the truck and pick out two books to read. Zane Gray and his western stories were my favorites.
A large standard schoolroom Roman numeral clock hung on the wall. The teacher had to wind it every morning.  If you could hear the clock tick then Miss. Johnson was happy with the noise level in the classroom. The front and sidewalls of the classroom were covered with blackboards. The only pictures displayed on the walls were of George Washington and Abe Lincoln.
We all carried a lunch box to school.  The box lunch had a place in its cover for a milk container, which seemed to get broken a lot. Usually the lunch consisted of a sandwich, peanut butter and jam, now and then baloney meat, (always egg salad on Fridays), two home-baked chocolate chip cookies, with an apple or orange. In my later years of grade school the teacher started making a hot lunch dish of some kind. I remember hot elbow spaghetti, with tomato sauce and sloppy joes were pretty standard. The government in the thirty's started providing some food because many families were very poor and those kids were lucky to have a few slices of bread. Now even breakfast is served in some schools.
All the kids had to walk about a mile or more to school, no buses. Most of us were slim. We walked down the gravel road past the cemetery. In our younger years the cemetery was "no man's land" and of great concern to us. We sometimes made the sign of the cross or said a quick Hail Mary as we ran passed it. Sometimes we didn't get home in time to make the outdoor biff, which at times that was big trouble for me.
Before school started in the fall we usually received two new pair of bib overalls and shirts, one new pair of ankle high boots per year and rubber knee high overshoes (no Nikes tennis shoes).  We were usually barefooted in summer, which was the style and was great for wading in the ponds. I hated chicken manure between my toes though. Bib's were the attire, winter and summer, we worn the old bibs out in the summer got new ones for school.
One fall, when I was about ten years of age I had a trap line for skunks. Each morning I would check the traps on the way to school. One morning, I had a huge live skunk in my trap.  When I finished him off with a club, I was squirted on, but I went to school anyway. The minute I walked in everyone knew what happen.  Miss. Johnson sent me home quick and "Ma" was not happy!!! A hide was worth about two bucks, but I was forced to retire from my trapping career.
In late summer a big annual event at our school was the various beverage trucks stopping by with freebies: bottles of Pepsi, Coke and Orange Crush pop. Good stuff for country boys and girls. 
The annual school Christmas party was also a big event. On the north end of the classroom a large raised board stage was set up for the Christmas show. All the families in the community came to attend and see their children's performance (standing room only). The annual program always included the nativity scene; with the three kings giving gifts to Jesus (would not happen in current times).  Group Christmas songs and some solos were sung. In both the first and second grade I got to perform solo. I remember how frightening it was and the practicing required. This is the Christmas song for which I became famous.  It could never be sung today (do some research and check out the later verses):
There is a tavern in the town in the town
and there my true love sat me down, sat me down
and we drank wine as merry as could be,
Very well, very well, very well.
<![if !vml]>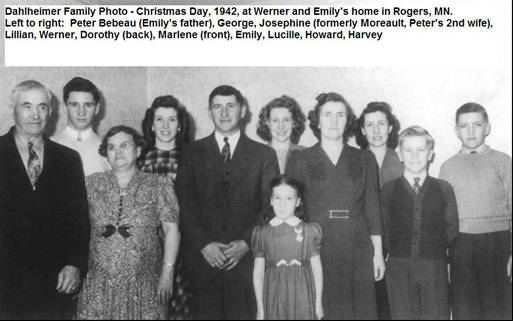 <![endif]>
One teacher taught all eight grades and our teachers changed every few years. The teachers usually boarded at a local farm home.  I remember a Miss. Bible (short timer) and Miss. Johnson, my teacher (long timer).  Miss. Johnson taught about forty students of all grades. She was a good teacher, also very strict. I remember many of us practicing our penmanship after she caught us whispering, writing "I will not whisper" a few hundred times on the blackboard after school.  It made you think but didn't necessarily help the writing skills.
Miss Johnson also had a temper. One time, during a lunch recess a group of us were bouncing balls onto the back of the school.  The noise made her real unhappy and she rang the school bell early. As we ran through the school door and passed her she whacked each of us with a yardstick.  I was running behind a good friend of mine, "big Bob Bourgeois". Big bob grabbed both of her wrists and held her and told her "you don't hit me" and she didn't. Miss. Johnson got very red in the face and sent big Bob home. A little later that same day Bob's mother stopped by with a note, stating Bob's Father wished to visit with Miss. Johnson after school. After his visit there was no more yardstick whacking. Later in high school big Bob played guard on the Elk River football team for four years.
We sometimes played jokes on Miss Johnson. A number of us, including big Bob lifted up the back of her Chevy coupe and put a block under the one of the wheels. The coupe was parked in the weeds behind the school so the block under the wheel couldn't be seen. Of course, we all stuck around after school, waiting for the action. She came out, started the coupe up and shifted into gear. The motor raced and rocks and gravel flew all over the place, but no movement of the coupe. She would get out look around, get back in, race the motor, the wheel would spin and more rocks and gravel flew. After a few more times she spotted all of us peaking around the corner and smelled something was going on. Big Bob's parents lived just a short distance, so she strutted over and brought his father back. Bob's father figured the problem out right away. Needless to say, nothing was ever mentioned to us about the consequences. Miss. Johnson got even with Bob and I am sure Bob got more than a good lecture from his father. 
Later, during Miss. Johnson's last year at our school she was sick a lot. She threw up in the wastebasket before classes started. We knew because we had to empty the basket. Also, we had extra long recesses when she took naps. In the spring after school was out we were told she was not returning to teach in the fall.  They said she had gotten married and moved to Montana to live on a wheat ranch. Now we know why she was sick and messed up the wastebasket. Over the years, I have thought about Miss. Johnson many times and wondered about her. Where did she end up?  "I liked her".
Treasured Memories From My Boyhood
Mother and Dad were with us all of their lives. Our family lived in the same farm home with plenty of good food.  They were an honest, hardworking, conservative, church-orientated family and demonstrated many character traits, which have stayed with us during our lifetimes. A secure family was important to all of us and has continued to be so throughout our lives. Our family grew up together and has stayed together. We were poor, but it was a good life.
Our dogs name was Fanny. She was white and had puppies every year. Less traffic on the road during her time meant a longer life for her.
We three boys had one bike. It was purchased for George, my oldest brother. I was third in line to ride. It served its purpose well.
<![if !vml]>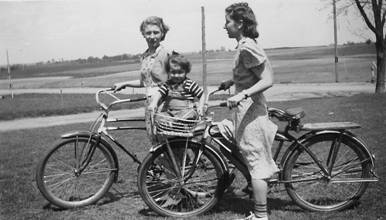 <![endif]>
Howard's sisters, Dorothy, Marlene, and Lillian, on bicycles, 1938
George was given a model 410 shotguns for hunting when he was 16, rarely, did I get to use it.
Allowances were non-existent.
As kids, we loved to eat Crackerjacks.  They were a big expectation when we went to the Rogers feed meal with Dad.  In later years it continued to be so for my three daughters.
Radio (no TV or computers).  One radio and we usually all listened to some of these favorites:  Little Orphan Annie, the Lone Ranger, Captain Midnight, the Shadow Knows, and Jack Armstrong the All American Boy.  Mother had her soap stations in the early afternoon, i.e., Ma Perkins and many others.
In the summer, on Friday evenings, the Rogers Merchant's sponsored free outdoor movies (there were no movie houses), such as westerns like Hop Along Cassidy or Tom Mix.
Saturday was always a big day and we would go to town (Rogers). Saturday mornings were for religion classes at St. Martin Catholic Church (four hours). It was also typical to have three-four weeks of religion classes in the summer.
<![if !vml]>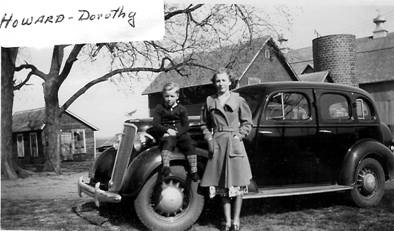 <![endif]>
Howard Dahlheimer and Dorothy (Dahlheimer) Schultz with the family car – perhaps on one of those Saturday or Sunday trips to town.
<![if !vml]>
<![endif]>
Howard's sisters:  Lillian, Lucille and Dorothy, all dressed up
<![if !vml]>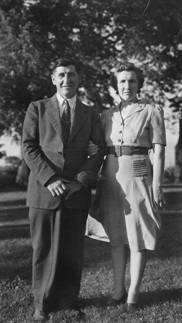 <![endif]>
Werner and Emily (Bebeau) Dahlheimer, 1940s
Church was important:  every Sunday to mass at St. Martin Catholic Church. We had our own pew to sit in and so did everyone else. My grandpa George Dahlheimer had his nameplate on it. His father and mother had donated a large beautiful painted glass window next to the pew, which still exists today.  In the summer, the time after church was great fun. I can still see Dad up in the icehouse, throwing a chuck of ice down. We then rushed home to make homemade ice cream. We all got to turn the ice cream crank.
Saturday night baths was a must for all. Three boys, I was the youngest, so I was first. The tub had about four inches of water in it.  Hot water was added from the reserve in the kitchen wood stove. Cold soft water stored in the cistern from the summer rains. My four sisters had the same procedure, youngest to the oldest. I remember sitting down in the washtub when I was young and, as I grew older I had to stand.
<![if !vml]>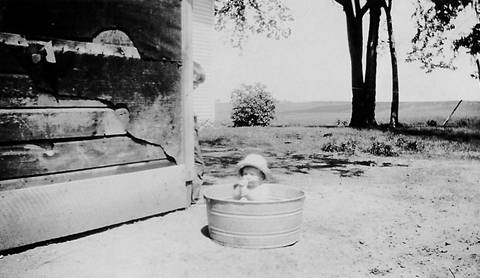 <![endif]>
Howard Dahlheimer, in a wash bucket, 1931-32
Swimming in the "Crow" below the rapids was a great family event. Sometimes in the summer when it was hot Dad and Mother would take the entire family about a mile north to the Crow River above the current bridge on Highway 101. This area was one of the safe places in the river to cool off and clean up. The water usually was shallow in the July and August. It was great fun in hot August weather.
The "WPA" (Works Progress Association) was active in the thirties. I remember dozens of men working on the road in front of the farmhouse with picks and shovels. Times were tough for many; our parents were poor, but had no debt and managed the little money they had well. Because of our Mother and Dad we never went hungry (many did) and we always had a warm bed and clean clothes. We were fortunate. My wife's family had to move many, many times.
Dad had hired man help on the farm. I can remember their discussing having to leave him go because there was no money to pay him his fifteen dollars monthly wage. 
Jackie Dahlheimer, a cousin and boyhood friend, lived across the road.  We grew up together and had lots of experiences. Two I remember well:  the frog plot and the goat gift.
The frog plot: We had a neighbor down the road who was always trying to pull jokes on my mother. When we were about six or so he told Jackie and I that frog legs were excellent to eat and that our mothers had told him they would love to have some. He gave us an old five-gallon gas can and suggested we go over to the pond close by and fill it up with frogs for our mothers to fry up. We did just that. About three hours later we had it full and lugged it home to my mother and asked her to fry them up for dinner. Need I say more? We had to return all to the pond.
The goat gift was his best. One time about age seven or eight, we stopped to have cookies and milk with Ernest and Emma. He started telling about his billy goat, how great a pet it was, how much milk the goat produced, and that he was going to have to send him to market unless someone would take him as a gift and care for him. Jackie and I were the selected lucky boys. We must have worked two/three hours trying to get that goat home. Goats do not follow. We had to pull and push this goat for hours, but we made it. My mother said no way were we going to keep Ernest's billy goat. So back it went to Ernest by itself.
Another time, Jackie accidentally shot me in the butt with his air gun. Did that ever hurt!
Fishing, in the Crow River was always great fun but the suckers and carp were not too good to eat. We would walk about two miles north on the railroad track to the bridge. Crossing the bridge, which was quite long, was somewhat scary and we were also afraid we would get caught in the middle by a train, so we ran a lot of times. We caught a lot of fish back then, and still fish a lot.
The 4th of July was always a big deal, lots of fireworks (50 for ten cents). It seemed Dad always supplied some money for the boys for firecrackers.  Red, white and blue ones were the best. I can remember setting them off in the middle of the graveled main street in Rogers! (Not today!)
In October, late in the evening, watermelon hunting in the neighbor's watermelon patch was exciting. We always managed to get a few to eat before he would fire off his shotgun off every few nights to scare us off. We always prevailed and he really did not care if some melons left the patch.
 Halloween night was a big deal for some adults and exciting for the younger crowd (boys). The big deal was to tip over the neighbor's outhouse, or as some people called them "the crapper". Other tricks were to tip over corn shocks or dress up some straw mummies and lay them by the roadside with a rope tied to the mummy. When a person stepped out of the car the trickster gave the rope a tug and listened to the girls scream. The adults crowning trick was to take someone's buggie and put it on top of their barn or another farm shed. That took lots of work!
Harvest time in July/August was work for all with large noontime dinners. Dad and a neighbor purchased a threshing machine.  They arranged a group of six or seven farmers who would help one another at threshing time. This involved lots of manual labor by all.
<![if !vml]>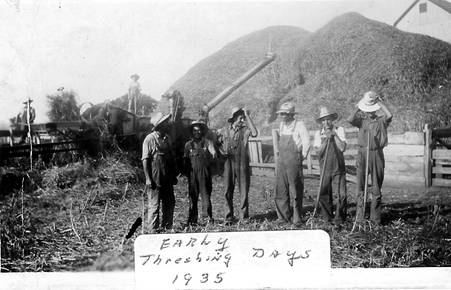 <![endif]>
Early Threshing Days, 1935
In the fall I would go to the woods and pick butternuts, usually a bushel or so. They were green and had to be dried in the granary for a month or so. Butternuts are good eating and sometimes mother put them in cookies and cakes.
Mother and Dad always had a large garden. Lots of fruits and vegetables were to be had. The strawberry and raspberry patch was huge and Mother made many jars of good jam. In late fall she canned carrots, tomatoes, corn and rhubarb and a few large crocks of sauerkraut were made. Very little food was purchased at a store. In those days you were considered extravagant if you purchased "sliced wonder bread" at the store.
I remember the red and white grocery store truck stopping at the farm and letting the women pick out spices and various food products. Home delivery started a long time ago.
Gin rummy, one of my pastimes and favorite card game, was taught to me by some old farmers when I was about ten years old. When I would go to the barbershop for haircuts they would need an additional player to fill the table.
After sixty-five years of playing gin, the games continue. It keeps the mind working and provided walking around town money.
Hunting time was always exciting. A few of mother's uncles would come out from Minneapolis and hunt for pheasants. "I was one of their dogs" and would run the fields flushing the birds. My lifetime interest in hunting is a result.
Minneapolis in the early years was a large city many (twenty) miles away. Christmas required an annual shopping trip – and a big deal it was too. I remember feeding the many pigeons in the gateway area on Hennepin Avenue and seeing the many homeless people sitting on the streets. One of my jobs while in Minneapolis was to sit in the car and watch for the policeman who came by to check the parking meters. He would make sure we did not park to long on a given meter. I kept putting pennies in the meter and erased the white caulk marks he always put on the right front tire. (Today it costs a quarter.) On way home we would stop at the airport in Crystal and watch some small planes land and take off.  We usually we got the chance to eat out on the way home, which was exciting. I remember when I was about eight or so we stopped in Osseo and Dad handed me the menu and said order. I looked at him and the list and decided on a steak. Nothing was said, but under watchful eyes I ate it all. It cost about eight-five cents, but Mom's was better.
In conclusion, may I sum up my thoughts on my early years and my life:
First, I was fortunate to have my parents, brothers and sisters as mentors.   They provided important guidelines for me to follow throughout my life. 
Second, the love, respect and influenced of my wife of fifty- three years. Mary Ann has been immeasurable. 
Our three daughters and two grandchildren, the fruits of our marriage for which we both are most proud.
Our sons-in-law provide the continuity of family for which parents hope. They have been great additions to this family.
What more can parents ask or wish for their family?  Life has been good for Mary Ann and I.
Memories of My Parents, Howard and Mary Ann, by daughter, Jane (Dahlheimer) Heinrich
When we were growing up some of my best memories come from our numerous camping trips with the trailer.  We traveled all over the western USA, visiting many of the National Parks.  Kay finally got old enough to come with us, after having been regulated to staying with the Grandparents.  Lynn and I always tried to bribe her to stay home by saying we'd bring her souvenirs.  One of my memorable camping trips was with the Schultz family (Howard's sister, Dorothy, her husband Odell, and their children).  Somehow we lost them in South Dakota, and back then there were no cell phones so it took us forever to find them.  We did lots of weekend camping trips in Minnesota, Wisconsin and Michigan.  Dad and I liked to canoe and really enjoyed white water!
I have been fortunate to be able to take a couple of trips alone with my Dad, one to southern Italy (Naples, Amalfi Coast, Sicily) and another to southern France and northern Spain.  These were great trips where we got to spend quality time together and have lots of good memories.
When we were growing up, Mom always did all the clothes washing and the cooking.  (Perhaps this had something to do with not wanting us to break anything!?)  When I finally moved away from home it was a real learning experience.  Mom also enjoys cooking and new foods, so she is always trying new recipes, and she is a very good cook.  To this day, all of her daughters enjoy trying new recipes too!
Family was and is still important to Howard.  He was always thinking about us and preparing for our future financially.  He even helped me buy my first house!  He and other Dahlheimer family members (George Gmach, Ray Hughes) spent many hours managing the development of the land in Rogers which originally belonged to his parents and grandparents.  All descendants of Werner and Emily eventually benefit from their hard work.
I'm proud to have Mom as my mother.  She has always taken care of herself, dresses well and stays current with the fashions.  She is the same with her home, as she enjoys redecorating and making improvements.  I think this is important as one can get complacent as one ages.  Perhaps this is due to her time growing up when her family did not have much money and couldn't afford new things.  While she likes staying current with fashions, etc., she is still quite conservative and is always looking for bargains.  We have often given her a hard time for buying things and then returning them, sometimes a year later!  She was a good negotiator!  Even though we made fun, sometimes we'd ask her to do the same for us!   She still saves used envelopes for scratch paper, but I shouldn't tease as I use the back side of used paper in my printer!
I consider myself quite good at getting around via a map. When we traveled around the USA Dad taught me how to read a map and to this day I owe this skill to him. 
Dad likes to fish and for many years he would go to the Lake of the Woods.  One year Kay and I got to go along.  I was sixteen years old and Kay was eleven.  We felt lucky to be able to spend this time with our Dad, eating shore dinners of fresh fish and cleaning the fish at the end of the day (not really!).
Lynn and I learned to ski in high school.  Mom, Dad and Kay eventually learned as well, which was the beginning of many memorable family ski vacations.  One of our traditions was to go up to Lutsen on the north shore of Minnesota, as well as to go to Salt Lake City, Utah.
We all learned to love Italian food at Cafe DiNapoli, and Chinese food at the Nanking -- both in downtown Minneapolis. 
Memories of My Parents, Howard and Mary Ann, by daughter, Lynn (Dahlheimer) Schroeder
Tent camping and all the fun hikes (with me following up at the end), singing around the campfire, cooking outside, sleeping in sleeping bags at night and talking in the darkness.
All the fun ski trips as a family meant a lot to me.
A few summers on Dawnview Terrace we got to get 2 cats (one for Jane and one for me).  It was fun playing with them and chasing them behind mom's flowers up along the garage. Then just before school started in the fall, we'd take them to the Dahlheimer farm--where they lived till they died--which was pretty soon.
Our family trip to Washington DC to see all the history and stuff we studied in school was very awesome. Dad made sure we stopped to see it all.
Sunday family days which we spent doing something together. Whether it as going for a drive, having a picnic somewhere, going for a walk, visiting the grandparents. The day was special. We'd even have bacon and eggs for breakfast.
Mom's banana bread, freshly made, with butter slathered on it and playing in the backyard after dinner and eating it. Was delicious.
Picnics at Cedar Lake and going swimming. Dad would sometimes come after work and meet us there. Helping Mom to become less scared of the water.
Apple picking in the fall and then the wonderful applesauce, apple pies and apple bars that Mom would make for us to eat--she is certainly a good cook.
Canoe trips as a family. Thank goodness Dad got a canoe with a motor for those times all 5 of us plus the picnic basket were in it.
Burning leaves in the fall and catching fireflies during the evenings when we lived in Nebraska.
Mom always being there when we got home from school, with some good treat for us to eat. I knew she was home when I was at school and that was a real comfort.
Not being allowed to call Dad at his office as he had lots of important stuff to do.
Listening to WCCO every morning and the Chicken Fat song.
I wanted a big watch, and didn't have any money to buy it. Dad set up a plan for me to do many different things around the house in order to earn the money for the watch. One was hauling a dump truck load of rock from the front driveway to the backyard. Another was painting the railing going up the driveway. I loved that watch when I finally got it--I still have it too.
Friday night steak and baked potato dinner during the summer. Dad would have a drink (martini?) and then he'd have a talk about something and we'd listen.
Cutting down the Christmas tree and decorating it. Mom would reuse the tinsel--it was fun putting the tinsel on the tree but not fun taking it off.
Going sledding over at Theodore Wirth hill. Dad would take us on the toboggan.
Memories of My Parents, Howard and Mary Ann, by daughter, Kay (Dahlheimer) Anderson
Mom and Dad's deep love for our family, getting up religiously every morning to have breakfast together as a family and our family dinners at night together. It is something I do in my family everyday and our kids really appreciate it and they know we are committed to time for them each day. This is something I remember so vividly, Mom and Dad always made time for us each day. And Mom, cooking for us and making us great meals that gave such comfort and love.
I remember Mom and Dad being at all my sporting events (ie competitive swim meets, synchronized swim shows, cheerleading, mascot, track). It meant a lot to have them there, so see me compete or perform. They were always the best cheerleaders for me.
Teaching us so many things about responsibility. Even though at the time I am sure I did not appreciate it, having us contribute to the family by doing chores taught each of us to take our part in helping our family. Also, teaching us to save going to the bank each week to deposit some money to our savings book at TCF taught me so much and I remember doing that like it was yesterday. They did not do it for us, they had us do it ourselves.
Saturdays hanging out with Dad at his office and playing on the typewriters, maybe that was why I got into selling office equipment! I remember that as being fun and special time with Dad. He showed me the value of a work ethic.
Playing dress up and school in our basement on Dawnview Terrace, we used our imagination so much to play and have fun. Also putting on the talent shows for them.
Dad, being a big brother to "Scotty", he role modelled for me then to give back to others who were not as lucky as we were to have such a great family....later in life I would become a Big Sister.
Our family camping trips and writing in our family journal on them. Those were some of our best family times. Mom and Dad helped us appreciate the beauty of the outdoors and I always felt so lucky to have seen so much of the US (when my sisters weren't bribing me to stay home and they would bring me presents!!)
Their commitment to teach us all to ski, taking us to lessons and the local ski hills. Our annual family ski trips in Minnesota and then out west to Colorado and Utah. Mom and Dad taught me a love of skiing that I carry with me today and enjoy to the fullest living the Canadian Rocky Mountains.
Our yearly goal writing! The 1 year plan and the 5 year plan! While I don't do a 5 year plan anymore, I still do a 1 year plan and have my husband and the boys do the same! After all, how do we make decisions in our lives without a road map of goals to help us decide what direction to take! That was soooooooooo valuable in my life...teaching me about setting goals!!!!!!! HUGE!!!! Dad also got me Dr. Dennis Waitely's tapes on Success in life...I would listen to them over and over again because I wanted to be successful in life.
In college, getting mail meant so much! Mom would send me weekly letters and Dad would send me a taped message! My roommates loved Dad's messages, as I would often have it on loud enough for them all to hear. They were religious in their contact and I always felt their love and support. I remember 30 days into my time at UWEC I was hating it, and Dad just said, "lets give it 30 more days and if you still feel the same we can talk about your options" He knew somehow that if I gave it more time, it would all work out. I made more friends and got into college life and soon was only coming home at holidays!
Memories of My Grandparents, Howard (Papa) and Mary Ann (Grammy), by grandson Derrick Schroeder
Grammy gave me my first haircut. I think there are even pictures of it somewhere. Also, every time I've gone to have supper at their house, she has always made a new recipe. Grammy also sent me letters and cards all the while I was up at college…it was always fun to get her letters and hear what she was up to.
Papa is always willing to give some advice and lend a hand. He helped me get my first house, and helped clean it up and make it more livable. For the first couple months he was there many times a week painting, sealing the garage floor, and even trimming the tree in the back yard. He even helped when we put in the retaining wall the following year. His labors were much appreciated, and they just show how much family means to him and how hard of a worker he is.
Memories of My Grandparents, Howard (Papa) and Mary Ann (Grammy), by granddaughter, Melissa Schroeder
Growing up, around Easter time, Derrick and I used to get teased by Papa with the "pooping" Easter Bunny. Derrick or I would bring Papa the stuffed bunny and magically, the bunny "pooped" out jelly beans! It took me (Melissa) a few years to grasp what was actually going on because occasionally throughout the year, I would hand Papa the bunny requesting he have it "poop" but the bunny wasn't able to because it wasn't Easter time. Little did I know (until I was much older and much wiser), that when I brought the bunny to him throughout the year, he never had jelly beans with him!
I used to stay over at Grammy and Papa's house every once and a while growing up. When Grammy and I were heading out the door, I used to run ahead to the car and hide under the passenger seat where "Grammy couldn't see me" … or so I thought. I always thought that was so much fun and that I was being sneaky … again, years later and much wiser, did I realize that Grammy was playing along with my game and that she really did see me hiding.
I remember as a child, Grammy used to give me perms in her basement. In her basement, she also had one of those hippity-hop bouncy balls that I used to bounce on for hours!
Cribbage! 500 Rummy! Gin! Those card games Papa once taught me. He taught me how to strategize, how to be careful with my "poker-face", and also he taught me how to beat him … which sometimes didn't take very much. He taught me skill rather then luck. We used to play at just every family get together and it was such a highlight when we did. And it was even more of a highlight when I won!!
Growing up on Christmas Day during present opening time, I used to decorate Papa with all the bows, ribbons, etc … such a fun memory because he was such a good sport about it. There are pictures of those fun memories too!!
I remember being allowed to go on the big Canada Fishing Trip one year with "The Men". Boy did I feel great!! Papa taught me a lot about fishing. Now, instead of going on the fishing trip us women spend the week going to dinner and spending time together.
The infamous Mexican Chihuahua story … Derrick and I were fairly young (me in elementary school and Derrick in middle school) when Papa and Grammy took a vacation to Mexico. Papa called to say he found a dog to bring home for Derrick and me! Boy, were we ever excited!! However, the joke soon turned the table when they got back home and Papa presented us with a piñata resembling a Chihuahua… apparently (according to Papa) the Chihuahua didn't know how to bark in English so they decided not to bring it back for us. Boy were we crushed … later, we realized that regardless if the dog understood Spanish or English, he still barked like any other dog! This was Papa's favorite April Fool's Day joke … he was just trying to get back at us for all the pranks we played when they were gone each year.
Decorating … I bought my first condo in July 2005. I still had college decorations and was in dire need of some upgrades. I called Grammy asking if she'd come over and give me any ideas for decorations. And boy did she ever! She was such a huge help that I now call her "My Personal Interior Decorator". I get comments all the time on how wonderful the coloring flows together and how it's not over-cluttered … thanks to Grammy for her excellent taste in home decorating … I would have been lost without her guidance.
Chicago 2006!! Kelly, Mom, Grammy, and I all flew to Chicago in December 2006 for a long weekend. Kelly had won tickets to a taping of Oprah and the four of us all went. Such a fun weekend and Grammy had such a blast. She has always wanted to see a taping of Oprah and her dream came true. It was such a great weekend with her and very memorable. We all saw Wicked, did some shopping, walked through the Christmas Market, ate lots of pizza, and just got to spend quality time with each other. This was a weekend that none of us will forget as it was definitely a highlight in all of our lives.
And the famous car accident … how could anyone forget? Well, to this day (8 years later), I am STILL reminded of the famous day. Let's see here … I think I was 16 at the time and Grammy and Papa were over for dinner. I decided I was going to go out with some friends for the evening. I still had the rule of "no radio" in the car. However, because no one was in the garage with me, I opted not to turn it off. Instead, I decided to turn it up! Well, I started backing out only to hear a loud crunch and feel a sudden stop due to colliding with something. I pulled forward and opened my car to look at what caused the collision. I then noticed Papa's brand new Buick parked in my way. I just about had a heart attack until I remembered that I had to go inside and tell them what just happened. I was absolutely mortified because I backed into Papa's car in my own driveway. Needless to say, dad found out I was driving with the radio on, and that lesson cost me a lot of money. And still, to this day, Papa does not park in the driveway, especially when my car is already in the driveway and he still reminds me to look before backing up! (But he likes to back into things just the same … maybe that's where I get it from!!)